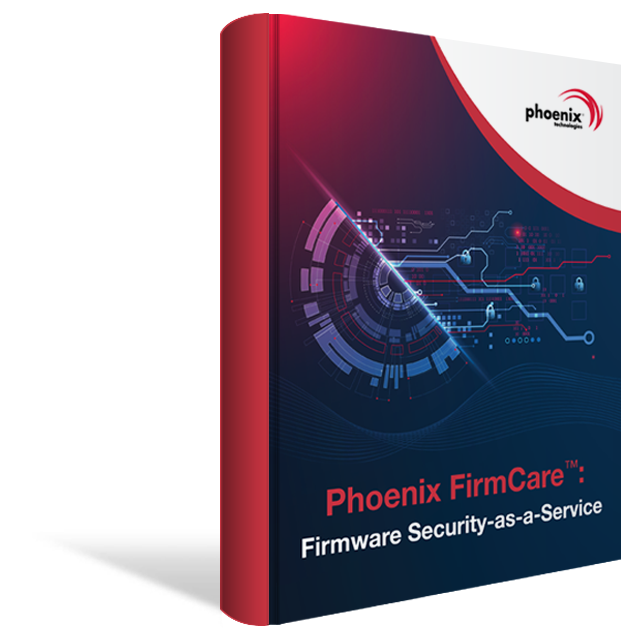 Free ebook
Firmware vulnerabilities have more than quadrupled in less than six years.
Is your firmware protection up to par?
[gravityform id="2″ title="false" description="false"]
The ebook will cover:

Why firmware protection is important for your company

How Phoenix FirmCare™ can alert you about vulnerabilities faster

How our in-house experts can relieve IT team stress and strengthen security
Introducing: Phoenix FirmCare
Here's What You Can Expect from Our Firmware Protection Program
What is Phoenix FirmCare?
The complete firmware security-as-a-service program that monitors, rates, and reports vulnerabilities and then develops and delivers appropriate patches.
It provides the earliest and most comprehensive awareness of threats to firmware security.
What does it include?
Vulnerability monitoring and reports
White hat hacking
Penetration testing
Patch development and delivery
Firmware Protection Package Options
Standard (SLA 1)
Enhanced (SLA 2)
Premium (SLA 3)

Vulnerability notification

30 Days

7 Days

24 Hours

Patch development, verification, & delivery
(for Phoenix code, open-source Phoenix code, or code from Phoenix Semiconductor Partners)

Based on contract, additional NRE charges may apply

Based on the threat level

Within 24 hours

Access to Phoenix Program Manager & Customer Engineers

Customer collaboration for other product vulnerablity notifications

Vulnerability support for non-Phoenix firmware

White hat hacking & penetration testing
Standard (SLA 1)
Vulnerability notification within 30 days
Patch development, verification, & delivery
(for Phoenix code, open-source Phoenix code, or code from Phoenix Semiconductor Partners)
Enhanced (SLA 2)
Vulnerability notification within 7 days
Patch development, verification, & delivery
(for Phoenix code, open-source Phoenix code, or code from Phoenix Semiconductor Partners)
Access to Phoenix Program Manager & Customer Engineers
Customer collaboration for other product vulnerablity notifications
Premium (SLA 3)
Vulnerability notification within 24 hours
Patch development, verification, & delivery
(for Phoenix code, open-source Phoenix code, or code from Phoenix Semiconductor Partners)
Access to Phoenix Program Manager & Customer Engineers
Customer collaboration for other product vulnerablity notifications
Vulnerability support for non-Phoenix firmware